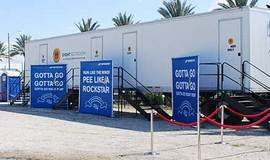 Semi Conversions 53ft
JAG Mobile Solutions is the leading provider of Semi-Trailer Conversions. JAG offers Semi-Trailer Conversions in Mobile Restroom Trailers, Shower Trailers, Laundry Trailers, Mobile Bunk Houses, Mobile Kitchen Trailers, Mobile Entertainment units, Mobile Dining and Mobile Mess Halls, and Mobile Command Centers. JAG will also take your ideas and build a Custom Semi Trailer Conversion.
JAG Semi Conversions are used in Man Camps, Base Camps, as Disaster Relief Showers and Disaster Relief Restrooms, as Festival Restrooms, in Oil and Gas Service, Mining, as Fire Service Showers and Fire Service Restrooms, in Film Production Support, and at the world's premier Special Event Venues. These units are available in 28', 48', and 53' Semi Trailers; as well as 20' Container Conversions and 40' Container Conversions.
Choose from our standard floor plans or contact a member of the JAG Design Staff to custom build to suit your needs.
Built to Last by Professionals Who Care, 800-815-2557.
...exceeding expectations