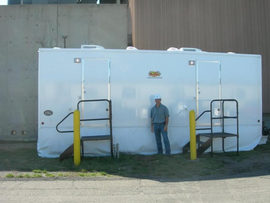 Industrial H/D
The "Industrial H/D" model restroom trailers from JAG Mobile Solutions are the industry's strongest solution to your industrial restroom trailer needs. These units are perfect for job sites and other industrial applications where durability is the first priority.
The most durable of all the JAG Mobile Solutions models, the "Industrial H/D" offers the same quality core construction as other JAG products, but adds additional strength and durability to areas that experience heavy wear and tear.
These trailers find their way into many long term and year round job sites, municipal and commercial applications. They service volumes of people daily and have built in vandalism safeguards.
Take the time to compare the durability and quality of the JAG Mobile Solutions "Industrial H/D" unit it will shine through.
...exceeding expectations
...exceeding expectations