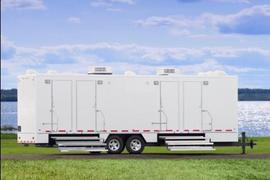 Versa
Versa Series Restroom Trailers from JAG Mobile Solutions are attractive, simple, clean-looking units that feature heavy duty vinyl flooring, solid-surface countertops, standard hot water and graffiti resistant wall coverings.
Standard individual private restrooms with 6-panel doors differentiate the JAG Mobile Solutions Functional unit from the competition. Competitive brands typical midline and some top line models standardly feature traditional gas station-like restroom stalls, laminate sink tops and no hot water.
By adding some tasteful basic interior decorations the Functional model can be staged for weddings and other high end events. Guests will be treated to an experience similar to that of an upscale hotel or restaurant. By leaving the unit more basic, guests will be grateful to have the privacy and obvious quality while the rental company will be grateful for the durability and serviceability.
The JAG Mobile Solutions Functional Model, one trailer endless possibilities...
...exceeding expectations